This is a site for Pontiac Trans Ams. From 1969 to 2001.
On this site, I'll give a bit of history on the Trans Am, as well as some background on how I got involved in it. I'll include lots of pictures of the Trans Am.




My 1973 Trans Am
---
NEW!
1980-81 Turbo Trans Am Registry!
Starting a Registry for the 1980-81 Turbo TA's and Pace Cars.
If you have one submit it to me for entry into the Registry
Hopefully, we can collect a lot of data on them.
Here is a page to see the data collected:
80-81 Turbo TA Search
---
Here are a couple of New Firebird books coming out!
---
This is an excellent site to see what your VIN decodes to.
---
Window Stickers For Your Pontiac
For a new service by Mike Noun, get your correct window sticker for your vehicle.
Check out his website:
Pontiac Reproduction Window Sticker Service
Picture of a 1970 Window Sticker:
(not to scale here)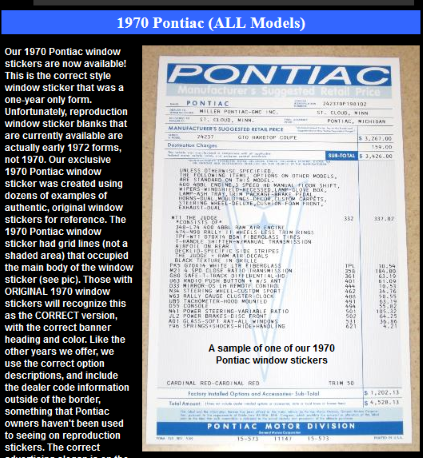 ---


Please let me know what you think of this site. Also feel free to contribute to this site with your own pics for my Reader's Rides page.



If you have a 1969 Firebird take a look at my body tag page. 1969 Body Tag Form



---